Kilroy For Fantom
Thank you for taking the time to review this proposal.
We've put together a full presentation for the Fantom community that also contains demo videos of our platform in action and more details on our proposal than are in this document.
You can view the full presentation here: https://Fantom.Kilroy.tech
Governance Proposal: https://beta.fwallet.fantom.network/governance/proposal/0x1d
TL;DR
Kilroy is a fully decentralized Web3 user dashboard and automation tool and no-code/low-code development environment that will be branded for the Fantom ecosystem.
It will make it easier for users to automate, trade, and discover protocols in the ecosystem, which will drive new users to Fantom and increase loyalty and lock in to driver more volume and TVL.
It will also open the door to thousands of new developers to build on Fantom, provide easier integrations between Fantom protocols and Fintech/Web2/TradFi, and drive more native and non-native users/volume into the chain.
What is Kilroy?
Kilroy is a no-code/low-code development & automation platform that also serves as a completely decentralized desktop interface for end-users of Web3 protocols. Users and developers will be able to interact with, build, deploy, integrate, participate, automate, and invest across any number of protocols in one Fantom branded application.
It empowers developers that don't know solidity to easily create applications with a no-code/low-code interface using composable components of smart contracts on the Fantom chain. It makes it easy for solidity developers to rapidly iterate on new protocols while harnessing composability in other projects.
Users gain the ability to interact with and automate across multiple protocols, an easy-to-use application for managing all of their Web3 activity, and the security of never having to connect to a website to make use of a protocol's functionality.
Kilroy has been in active development and use for over 5 years on projects large and small. Demonstrations of the power of Kilroy are available in our Fantom deck available here: https://Fantom.Kilroy.tech
Summary
Every blockchain faces the same issues for growing adoption by users and developers.
How do you make it easier, safer, and more lucrative for users and developers to participate on your chain?
The easier and safer it is to use your chain, the more users that will come. The more users that come, the more developers that will want to build on your chain. If you make it easier for users to use and easier for developers to develop, and you expand the universe of both, then you have a winning combination that can grow volume/TVL and drive the flywheel even faster.
Shared Goals - Fantom x Kilroy
Significantly increase user adoption/retention, TVL, volume, visibility, and revenue across the Fantom ecosystem
Provide Kilroy as a fully decentralized desktop/mobile platform for more easily running & managing dapps, bots, strategies, & media channels on the Fantom blockchain
Provide developers and power users with a low code/no code environment for more easily composing apps and investment strategies Recruit significantly more developers to Fantom by allowing them to develop using JavaScript & a drag & drop development environment
Make integration of Fantom DeFi protocols with Web2, GameFI, and TradFi easier and without requiring solidity skills
Remove centralized attack vectors, single points of failure, and lack of control, giving users the ability to manage all of their DeFi interactions from their local device without visiting a website
Standardize UI components across Fantom dapps to reduce time to market for protocol developers & make the UX easier & more intuitive
Make it simpler and safer for developers to iterate on or pivot their product concepts for better product/market fit'
Achieving the Goals
Create a Fantom branded version of Kilroy for discovering and using Fantom projects including integrated help, community, and composability tools.
Give Fantom and their developers an incremental roadmap that delivers basic capabilities quickly, and grows over time to encompass the full Fantom ecosystem.
Projects like SpiritSwap are already onboard! Make Kilroy's low-code/no-code environment, bundled app formats, and portable runtime engine available to Fantom users and developers
Provide open source examples of functional integrations with existing protocols, contracts, and external systems for Fantom developers to build upon
Create Fantom-branded platforms for running digitally signed apps, strategies, and bots obtained from a Fantom app store and provisioned using on-chain resources like NFTs and $FTM purchases
Work with protocols and projects to deliver locally executable copies of dapps and to develop standardized, composable low-code blocks for quickly building DeFi apps, strategies, and bots out of new and existing project contracts
The Problems Kilroy Solves for Fantom
Growth
All the problems listed below stifle the ability for Fantom or any chain to grow effectively. This is especially true for growth outside the existing base of users in the DeFi space.
Every chain struggles to grow a base of loyal users. Many in the DeFi space are chasing the latest high yield or airdrop. This happens because people want to earn more and they perceive a better offering outside where they are.
Using Kilroy means that users are better able to discover new opportunities on Fantom rather than exiting for another chain. It gives them the power to combine protocols into new investing strategies on autopilot.
Development Problems
Developing for DeFi requires using languages like Solidity. There is a shortage of Solidity developers, and becoming proficient in Solidity requires extensive experience and training.
Integrations are more difficult to implement and manage
Developers are less able to experiment with product/market fit to build the protocols users want or will use, because making changes is more difficult and risky
The holy grail of integration with Web2, FinTech, and Institutions is severely stifled, because those platforms don't have the development skills to integrate and protocols are lack enough developers to do it themselves
The development and security audit expenses for Dapps means projects can't afford to build a minimally viable product for testing market response
Disconnected worlds - Our ability to integrate the worlds of Web3 is dependent upon the skills and availability of solidity developers. Difficult to connect Web2 or TradFI with DeFi or NFT platforms. Individual metaverses are often siloed and do not have direct integrations with DeFi, NFT platforms, other metaverses, or games.
Project Limited Market Focus
Because they have limited resources for development, projects focus on existing users in DeFi and don't have the resources to expand beyond the base. This results in chains fighting over the same users rather than expanding their market focus.
Complexity & Poor UI/UX Issues
DeFi applications are complex & most have poor UIs. In addition, users must hop between multiple protocols to maximize their gains, which can cause confusion & losses. Unwinding in a market downturn is even more difficult.
Insecure Centralized UIs
Most apps deployed in crypto today require the user to visit a website. This is dangerous because it creates multiple opportunities for attacks, from domain hijacking to website hacks and regulatory interference.
Poor User Experience
Many UIs in Web3 are not ideal
Dapp discovery is difficult because every dapp is a separate website and finding connections between them for optimizing investments is difficult
Dapp interaction and automation is broken, because it isn't readily available to the end user to automate getting into or exiting investments across multiple protocols.
Managing complex strategies is difficult
Automation requires development skills
What's In It For Fantom
In a nutshell, it is all about growth and aligned incentives. It is in the best interest of Kilroy to grow the number of users and developers in the Fantom ecosystem. The easier and safer we make it to use and develop with Fantom, the more likely it is that volume and TVL will grow significantly for the entire ecosystem.
Fantom will also be known as the blockchain that makes it easier for users to use the protocols on the network, but also makes it easier for protocol developers to develop, launch, and iterate on their ideas.
In turn, a better user experience means that more experienced and new users will onboard to the chain that makes it easier, safer, and more lucrative.
What are We Proposing
A custom branded version of Kilroy for the Fantom blockchain, with all the major Fantom protocols available in the interface as decentralized interfaces and composable modules. This allows users to more easily and safely interact with the Fantom ecosystem, while also making it easier for developers to create new applications and for non-developers to automate protocols together.
The system will come with an application and strategy store where users can easily download new applications or investing strategies built by other users or protocols.
What Kilroy does for Users and Developers
Creates a decentralized desktop environment for accessing, using, and developing dapps on Fantom. Users will never have to browse to a protocol's website to access a dapp and developers don't have to worry about securing centralized infrastructure or revealing their identity.
Provides a decentralized user and developer platform so that users can access all the protocols of Fantom in a decentralized way reducing security risks for users and protocols.
A decentralized dapp access and low-code/no-code development UI. Users and developers can build applications and integrations without knowing solidity
A decentralized tool for automating composability of existing protocols using a no-code/low-code drag and drop development environment.
Automations can be used for investing strategies
Automations can be used for payments or just about any other capability available from existing composable protocols
Can be used to build entirely new dapps based on existing composable protocols or by connecting new protocols with existing protocols
Allow for a standardized UI so that developers can focus on functionality of their protocols rather than worry about designing an interface
Eliminates the risks of centralized UIs with man in the middle attacks stealing user funds
Provides a strategy/app store where users and developers can earn revenue by sharing their work with other users.
Makes it easier and faster for developers to pivot or iterate on their projects based on user feedback and usage patterns
Makes it easy for developers to connect Web2, TradFi, Institutional platforms, metaverses, NFT platforms, GameFi and into protocols on Fantom.
Making it easier, faster, and safer to use and automate protocols on Fantom can results in higher volumes, increased user base, and deployments of more protocols and strategies that brings the loop right back around again.
Fantom can provide base layer functionality or contracts to allow developers and users using Kilroy to have a set of tested capabilities they can use in their automations and dapps.
Timeline
Given the realities of software development and lead time required to influence FTM community directions, we've broken the project into 4 phases.
Phase 1 and 2 should be well established prior to the 6 month mark. Accordingly, the estimated level of effort required to achieve the key milestones for these 2 phases is approximately 20 man-months of engineering work and approximately 9 man-months of project/product management work.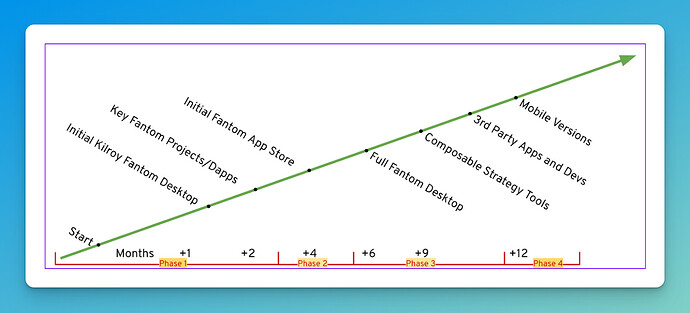 Grant Request
Our initial proposal requests funding for Phase 1 activities which will provide Fantom-branded, downloadable versions of the Kilroy desktop application for Windows, Mac, and Linux, with bundled apps for at least 3 mutually agreed to Fantom dapps/projects. Our estimate to complete Phase 1 activities is approximately 90,000 FTM and 90 calendar days.
Team Wallet
0xf5d52845ac00a3359fb7dc3d527da6665ec89972
About The Team
The Kilroy team is a group of doxxed and seasoned technology professionals, with a combined 20+ startups that we've founded and led, with multiple successful exits among them. Our team has built 150+ high quality commercial software platforms with 100+ years of combined experience in the FinTech, DeFi, Commercial SaaS, Academic, and Government sectors.
Our team of tech leaders, experienced software architects, media specialists, marketing/biz dev and professional services executives brings an industry-leading collection of skills and intellectual property to the DeFi universe.
We have a team of developers both in the United States and locations around the world.
From the Spirit Swap team:
"Working with Brad and the Kilroy team to integrate SpiritSwap within the Kilroy stack was a breeze. SpiritSwap has had a close working relationship with Brad for some time now. Brad is a brilliant web3 content producer with a sharpened mind for understanding the intricacies of DeFi and the problems that need solving.
With Brad having a proven track record at succeeding with whatever he puts his mind to and seeing his long-term vision for Kilroy becoming a tangible manifestation, it was a no-brainer for us to support and work with the Kilroy team on the SpiritSwap integration.
As Kilroy is a general-purpose, cross-chain workflow platform that uses low code interfaces to form functionality modules, its direct support for popular DeFi platforms like SpiritSwap is a perfect demonstration of its use case and wider application potential. We look forward to following the Kilroy team in their deployment and supporting them with their endeavours."
- SpiritSwap DAO
Founders
Chuck Shotton
30 years tech VC & start-ups
DARPA, NASA, academia
Fortune 500 Venture partner – Safeguard Scientifics funds
Brad Nickel
26 yrs in startups/tech/crypto product/biz dev advisory
Host of Mission: DeFi & DeFi Lunch
Founder of successful algo trading tools company
Contacts
Brad Nickel
Chuck Shotton
Telegram: @cshotton
Twitter: @cshotton
Discord:

@Mr

Wheat#9641
Email: [chuck@kilroy.tech](mailto: chuck@kilroy.tech)
FAQ
Why is it called Kilroy?
The first real world meme was created during World War II. A repairman at a navy shipyard in New York began to draw a humorous character with his name in the phrase Kilroy Was Here on the ships on which he worked. Soldiers and sailors loved the character and began to draw it wherever they went all around the world as a statement of solidarity among the allies.
That meme embodies our mission of spreading Web3 around the world together with the developers and users of this ecosystem.
Can I use it today?
We are busy updating the interface and connecting protocols to the system so that users and developers will have what they need to use the platform successfully. You can review the timeline provided though to see that we aren't far off from having users like you using Kilroy to create anything you can imagine.
What devices can be used with Kilroy?
Just about any. The platform can scale from a Raspberry PI to servers in a data center. There are no limits to what is possible for use by developers and users. We don't currently have mobile interfaces, but those are in the works and part of the timeline in this proposal.
What is the business model for Kilroy?
Kilroy at its core is a platform, but we are already working with multiple partners to create sub-DAOs to Kilroy that will create applications specific to markets, verticals, etc. Our revenue model will be multi-faceted with subscriptions for things like automated trading bots, NFT memberships for unlimited use, and revenue shares from partners for things like gas fees, etc. If you have an idea for an application for the platform, do not hesitate to reach out to us to discuss further.
What Have You Done on Fantom?
We are happy to admit that we are avid users (some might say fan boys) of Fantom and have used many of the protocols on the chain for profit and loss. We love the architecture of the platform and the team behind it. We have deep relationships with many protocols and founders from Brad's work on Mission: DeFi and have already integrated Spirit Swap and other protocols onto the platform.