A Crypto-Cannabis Ecosystem Project Built on Fantom
Dank: Built by Investors, for Investors
The Fantom Grow House was built with our vision to create passive income for ANY investor seeking to change their financial situation. The Grow House is the first dApp within the Dank Ecosystem that is being developed and improved to meet the expectations of our Fantom investors; it helps solidify our mission to bring exciting new utility to our community. Like every utility within the Dank Ecosystem, Fantom Grow House adheres to our three guiding principles: Transparency, Honesty, and Integrity.
The Fantom Grow House is just the first component and will be accompanied by a variety of utilities released within the Dank Ecosystem. The goal is to create a safe and secure environment for investors where confidence is instilled back into the industry while enjoying what we love. You may ask, why is a project of this caliber worth funding? You are not just funding a utility, Fantom will be funding a vision! We set high expectations for Team Dank, and we have both an extensive Ecosystem roadmap and an NFT roadmap. Dank Ecosystem will offer major utilities to include: our DEX, BUD token, Dank Bank, NFTs, NFT Staking Dispensary, NFT Games, GanjaVerse, Ganja Blockchain, and much more! Along with an extensive vison, Dank, LLC was formulated. All utilities will work alongside the Fantom Grow House to build and sustain one another for proper growth. Fantom is funding a promise, a set of values, and a mission to deliver the best transparent team and utilities available to Fantom investors. Our Timelines are aligned with a business mind in sight. We will release our innovative utilities in a professional quarterly timeframe (Q1, Q2, Q3, and Q4). The Fantom Grow House is the FIRST dApp to be released on the Fantom Network in Q1 of this year, 2023; we have already begun developing and are improving the Fantom Grow House contract and dApp. Although we are creating the Fantom Grow House as our first utility to launch on Fantom, we are asking the community to consider our entire ecosystem under one umbrella. Each utility developed by Dank Ecosystem will bring benefit and incentive to our investors; therefore, such innovative tasks require adequate funding. Our home is Fantom, we live and breathe Fantom, and we will become one of the best projects on Fantom!
What is Fantom Grow House?
The Fantom Grow House is a protocol aimed at allowing investors to create a passive income stream through dividend payouts; staking their FTM at any time, (rewarded in FTM/USDC LP). The Fantom Grow House users can make up to 420% returns on their stakes, given they hold for a set period. Daily percentages range from 3% to a 6% daily, depending on the amount of time spent staking. Every deposit made into the Fantom Grow House is locked into the TVL (Total Value Locked). When developing the Fantom Grow House, we strive to prioritize safety, security and sustainability. Dank has implemented safety mechanisms that play a key role in protecting the sustainability and longevity of the Fantom Grow House, whilst protecting our investors. Here at Dank we believe in equality for every investor to become capable of reaching their financial goals. With each milestone that is achieved; the Fantom Grow House will allow investors to continue to "Grow".
Why the Fantom Grow House?
Additionally, the project aims to be community centric. Regular updates about security, the project's future, and general news will be released via media channels and content. Furthermore, the team is dedicated to providing ample information about the project for both experienced and beginner investors alike, while helping the community make informed decisions.
Join the Dank Community!
When you join the Fantom Grow House, you're a part of creating a secure, transparent environment for investors on the Fantom network. Join us as we apply for funding from the Fantom Vault, a new initiative for start-up projects building on the Fantom network to help bring our vision to life. We'll continue developing the project with the highest standards possible. Together we can create a better future for investors on the Fantom network.
www.fantomgrowhouse.com ( please take into consideration that we are migrating to a new contract.)
Fantom Grow House Tax wallet: 0xB71BCA0C178fE2c5d9c6749cFd4062F57C35669E
As of now we are developing our Team wallets, we will be using cold and hot wallets.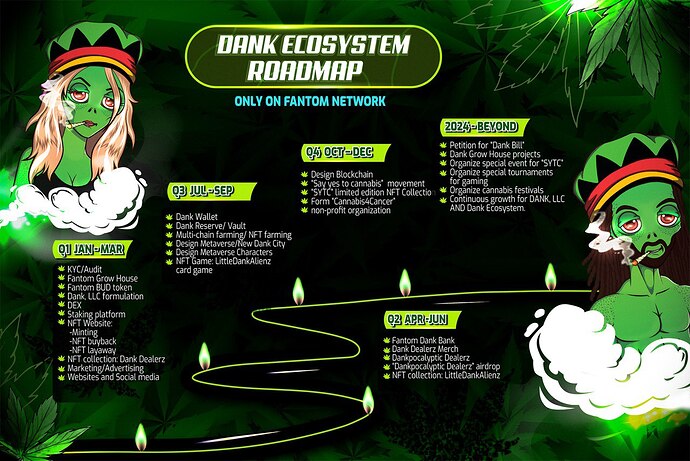 We are improving our Fantom Grow House with exceptional features allowing better sustainability of the project and a better utility for our investors. Therefore, this is being migrated to a new contract attached here:
Fantom Grow House: 0xFc33715B5BFd5fDCbE386C0CF79198D147E3936d
We are seeking $33,000 to complete our entire ecosystem on the Fantom Network.
*NFT Roadmap would not upload due to not being able to insert. Can request.